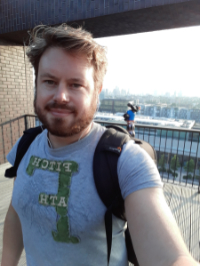 Hello,
My name is Chris Vaughan, and for over a decade now I've had the privilege of capturing special moments, on special days, for a lot of very special people.
The people I work with are my favourite part of photography. Delivering excellent images is essential, but to me, the experience of the person being photographed is even more important.
I'm passionate about ensuring that every single client I work with has a fun and enjoyable time on the other side of the camera. The best part is that happy and relaxed subjects make for fantastic photos, so everybody wins.
I'm always excited to talk about photography and events, so if you've got any questions or want to know more about how I might help you, then please just drop me an email or call me for a chat on 07542 687140.
How I can help you
I have extensive experience in both portrait / group photography and in reportage event photography (capturing an event and the people attending in a relaxed, un-posed style). I am very happy to talk about events of any sort or scale. 
My main expertise is in wedding photography, but I also have considerable experience in:
Festivals and industry fairs

Family celebrations and occasions

Family portraiture

Corporate events and parties

Corporate profile pictures
I'm based in Bristol but I'm happy to travel wherever I'm required.